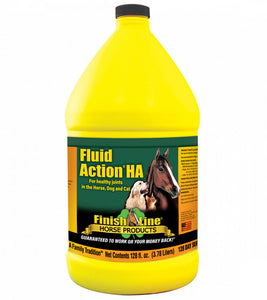 Fluid Action® HA provides the same great benefits as original Fluid Action® except with added Sodium Hyaluronate (HA) for extra support in promoting healthy joints. Sodium Hyaluronate, or Hyaluronic Acid supports healthy joint function by lubricating joints and helping to maintain structural integrity. Fluid Action® HA contains Glucosamine, Yucca, MSM, Vitamin C, and many other beneficial ingredients.
Dosage: Liquid 32 fl oz. is 32 day supply for 1 horse and liquid 128 fl oz. is 128 day supply for 1 horse, maintenance (1 fl oz. per day). Powder 2.4 lb. is 90 day supply for 1 horse.
Active Ingredients (per fluid ounce)
Glucosamine HCI (shellfish source) 5000mg
Ascorbic Acid 1000mg
MSM 60mg
Yucca 29mg
Sodium Hyaluronate 25mg
Ginkgo Biloba 18mg
Note: Fluid Action® HA contains no pain relievers. Beware of other products containing pain relieving ingredients. These do not address the true cause of the problem. This is why Fluid Action® Products work on the cause of the joint issues and not just the symptoms. If your horse needs pain relief, this is best addressed separately. Consult with your Veterinarian.