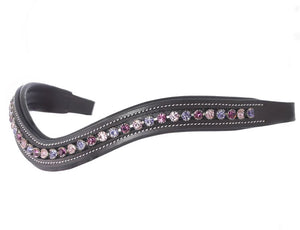 The real decoration of the bridle is its browband, also it has been rightly said that the browband is the centre of attraction of every decorated horse. Keeping the same idea Exion made an endeavour to bring out a special series of Browband & Here comes another piece of a specimen of Exion tack development efforts.
This beautiful & elegant piece of browband comes with some exquisite, remarkable & peculiar features like deep curved for an extra aspect of looks and ultimate soft padding for the horse.
Beholders should feel the beauty and the horse should be in comfort. It is the main principle that kept in our efforts while designing it. A deep curve provides an extra facet of looks and simultaneously soft and murmur padding for the comfort of the horse. The centre of attraction and the Eye-catchy element of this browband is its Colored crystal which imparts the twinkling effect.
Besides the look factor, this browband is a multi-fit tack that can be incorporated into all sorts of bridles. Manufactured and crafted by best-in-class Vegetable Tanned Drum dyed leather.