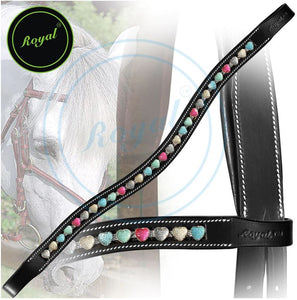 Magnificently created and stylishly prepared browband from the house of Royal. Gorgeous looking multi-coloured tiny heart-shaped Crystal on this piece of art brings a foot-tapping look. Nobody can drag his/her eyes after observing it once.

Crafted with elite quality Vegetable tanned drum dyed leather, which is the best and foremost used in the Asian subcontinent and delivers a smooth finish along with attractive looks for schooling purposes and show ring.
Each stitch is precisely sewn and counts up to 10 to 12 stitches per inch with heavy-duty cotton threads that are trimmed to impart clean and finished looks in order to retain optimum durability and beauty.