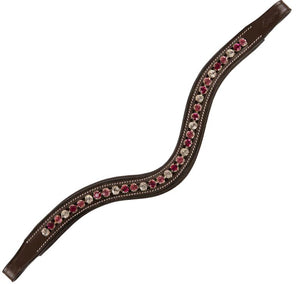 A perfect combination of looks and comfort can be found in this unique browband from the house of Royal. Designed with Transparent White, transparent Pink & Purple, it is a classy and marvellous equestrian product.
Beautiful and attractive Crystals specially and manually prepared for decoration purposes. Each crystal is precisely carved and every edge is sharp, distinctive and attractive. The colour texture has a transparent touch and due to this colour, the brightness enhances and appears magnified in terms of beauty.
Crafted with elite quality Vegetable tanned drum dyed leather, which is the best and foremost used in the Asian subcontinent and delivers a smooth finish along with attractive looks for schooling purposes and show ring.
Each stitch is precisely sewn and counts up to 10 to 12 stitches per inch with heavy-duty cotton threads that are trimmed to impart clean and finished looks to retain optimum durability and beauty.